(from TCM forum posted
21 April 2012)
Director: Michael Curtiz, stars: Claude Rains, Joan Caulfield, Constance Bennett, Hurd Hatfield, Ted North, Jack Lambert, and Audrey Totter. WOW, this turns out to be a very entertaining, who-dun-it, where you kinda know/guess who-dun-it but don't really care because its a great ride with very witty dialog getting to the end with quite a number of unexpected twists along the way. Another plus for me is its New York references and location shots, Grand Central Station, the 3rd Avenue el, a three tailed PAA Lockheed "Connie" Constellation, Peekskill, Croton, the Queensboro Bridge, The Hell Gate Bridge, Wards Island, The Sawmill River Parkway, and the old main terminal at Laguardia Airport to name a few.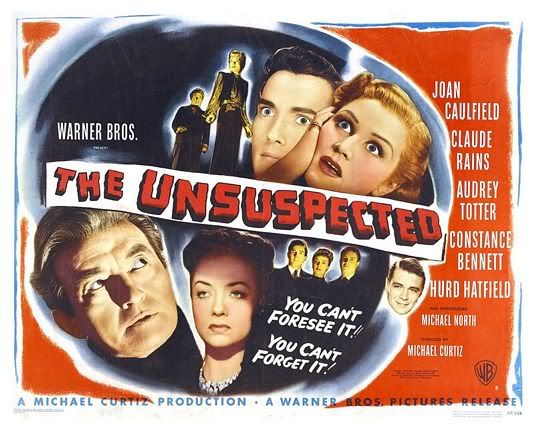 The story starts out with a murder in a Croton Mansion belonging to millionairess Matilda Frazier (Caufield) who at the onset we learn has been lost with all hands in a fire at sea. Living at the mansion is Matilda's uncle and ward to her estate, popular writer, and radio mystery/true crime show host Victor Grandison (Rains), along with his other niece Althea Kean (Totter) and her drunkard husband Oliver (Hatfield) who don't have a penny between them.




Victor Grandison (Rains) and Althea Kean (Totter) and Oliver Kean (Hatfield) below.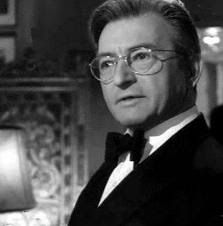 The murder victim is Victor's secretary who is strangled while she is on the phone to Althea, the murderer arranges the study to make it appear that the secretary has committed suicide by hanging herself. Various clues and facts are quickly displayed and piled up at the front end of this that you are so flooded with information that it is chore of a mystery just trying to figure out what is relevant and what is not.

Jane Moynihan (Bennett)


We cut to Manhattan and Victor's radio program where we meet producer Jane Moynihan (Bennett), and as Victor is doing his spiel on the murder that was faked as a suicide in his mansion, we zoom in on a speaker and in turn cross-fade to a steam locomotive emerging from a tunnel then to a portable radio in a New York Central passenger car heading north where Oliver is listening apprehensively to the details of the case and then we rotate out the window and see Oliver superimposed by reflection on the town of Peekskill rolling by. Next we leave the train and zoom up Peekskill's main drag to the exterior of Hotel Peekskill and in turn find ourselves inside a darkened hotel room that has a shrouded figure (Lambert) on a bed listening to a radio also with Victor's program. The room is lit only by the flashing light of the hotel sign and the letters viewed from the window spell "KILL", "KILL", "KILL" and iconic Noir sequence if there ever was one.

Lambert & KILL sign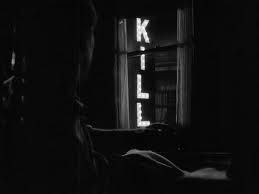 The Hotel Peekskill sequence:
At a surprise birthday party for Victor a stranger Steven Francis Howard (North) arrives claiming to be Matilda's husband. He claims that right after Oliver jilted Matilda three days before their wedding marrying Althea, Matilda married him on the rebound. He has a marriage certificate to prove it and he is also heir to an oil fortune, so that eliminates a shady motive for the claim.


Althea (Totter) & Howard (North)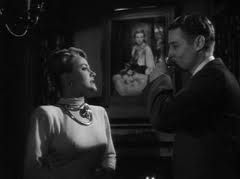 Howard and his millions are more attractive to Althea than her alcoholic hubby and she "vibrates" towards Howard causing Oliver to imbibe even more. Now on top of all this we discover by telegram that Matilda was rescued by a radio-less fishing boat that finally made port in Brazil and she is winging it home to Laguardia Airport. This one is a must see for how well everything meshes.

Matilda (Caulfield) and Victor (Rains)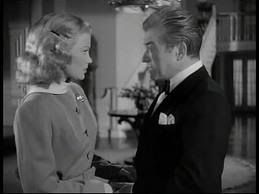 Oliver (Hatfield)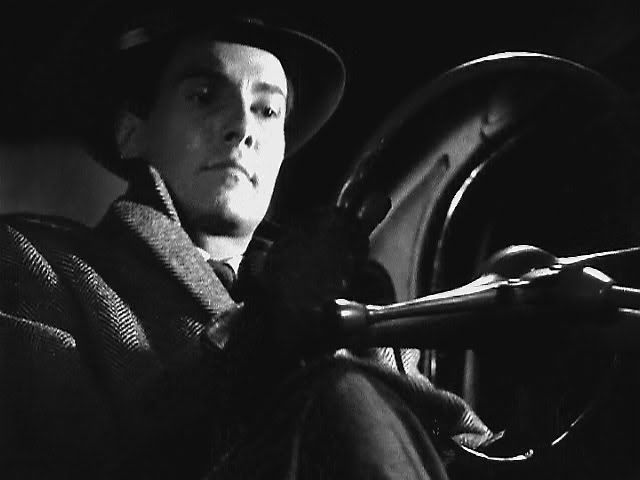 Wards Island NY location with Hell Gate & Triboro Bridges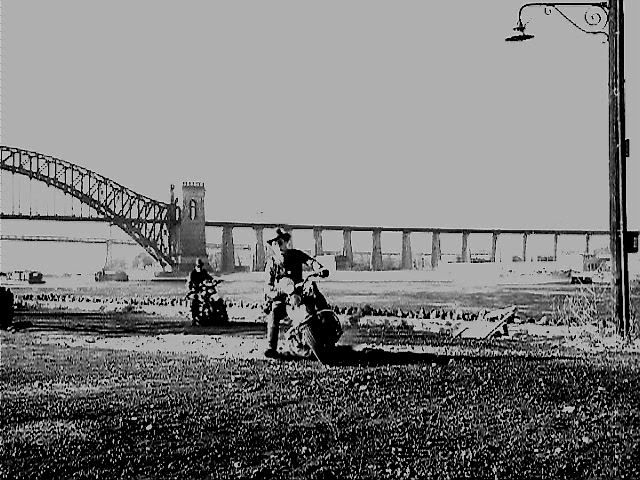 The film also has a pretty good chase sequence at the end but of course its movie geography that anybody familiar with NYC and environs will get a laugh out of. 10/10