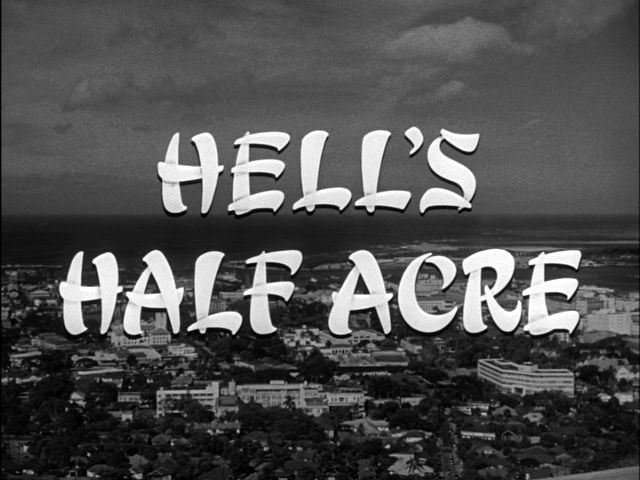 (from SLWB - October 16, 2011)
Director: John H. Auer, Story by Steve Fisher, Cinematography by John L. Russell with a surprisingly great cast, Wendell Corey, Evelyn Keyes, Marie Windsor, Jesse White, Nancy Gates, Keye Luke, Phililip Ahn, Robert Costa, Leonard Strong, and Elsa Lanchester. The film takes place in for that time period the Hawaiian Territory. Hell's Half Acre is to Honolulu what Bunker Hill was to Los Angeles, the ghetto district of Honolulu, a multi-story labyrinth, a rats nest of cribs, flop houses, clubs, gambling dens and dime a dance joints.
I wonder if this film along with Cry Vengeance & Alaska Seas were a way of priming the territories for statehood.
Story opens with a couple planning to be married, Chet and Sally Lee (Wendell Corey and Nancy Gates), sitting in Chet's tiki nightclub "Chet's Hawaiian Retreat" the ultimate Tiki Bar. Chet Chester has a burn scar on the left side of his face, he is something of a racketeer, at the start of WWII he started a syndicate in Hell's Half Acre with "Slim" Novak (Robert Costa) and Roger Kong (Phililip Ahn), then after the war he bought them both out and went legit. Now he pretty much has gained some pull and respectability Honolulu. He has enough leisure time on his hands to also compose and record songs .
Clockwise from top left, Diamond Head and Waikiki Beach noir-time, Chet's Hawaiian Reteat, Slim Novak in peacock chair, Honored guests Sally Lee & Chet Chester arriving to the party.
Chet's friend Roger Kong is throwing a party in his honor by staging a Hawaiian band & chorus floor show playing Chet's hit song "Polynesian Rhapsody" While they listen, sinister looking Novak passes a threatening note to Sally Lee who excuses herself to meet him in the clubs office. He tells her that he is going to blackmail Chet exposing his past so he and Roger can re start the syndicate. Sally, taking no BS from Novak, puts a bullet in his forehead, in a surprisingly pretty graphic sequence for 1954.
Clockwise from top left, the threatening note, Sally Lee's final answer to Novak, the floor show, Novak taking the "Big Chill"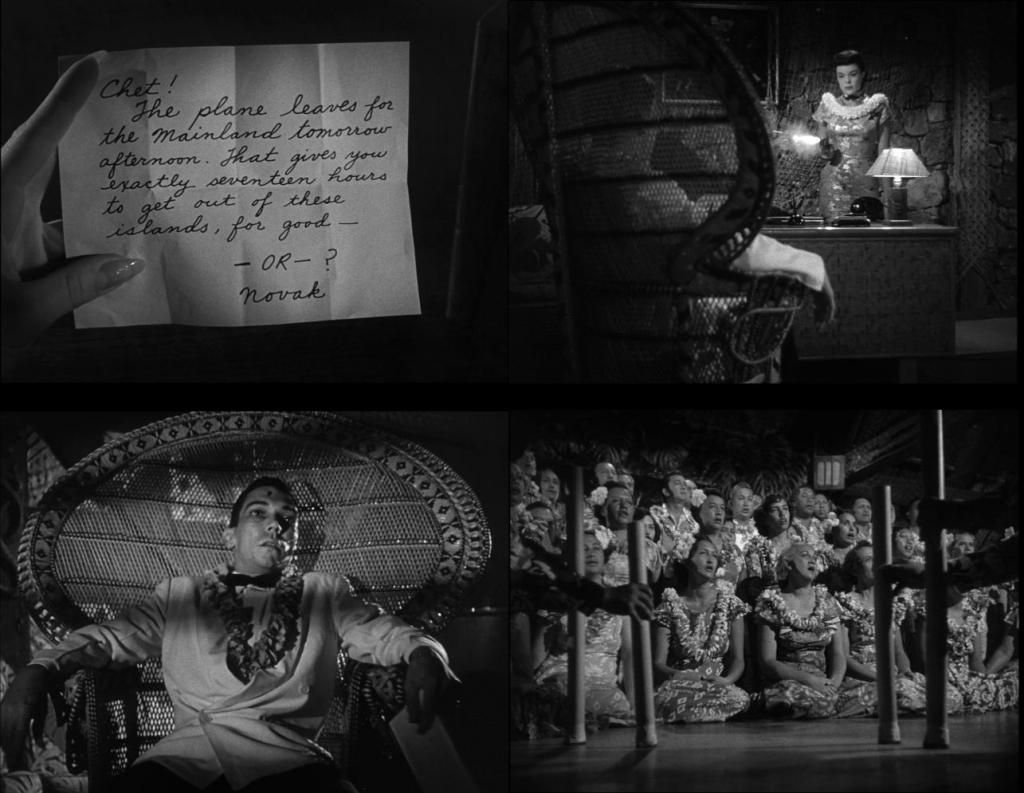 Sally Lee goes back and tells Chet what she did. He tells her that he will take the rap for her but that she is to leave for the mainland with $50,000 of his money to give to a lawyer buddy of his back in LA to get him off.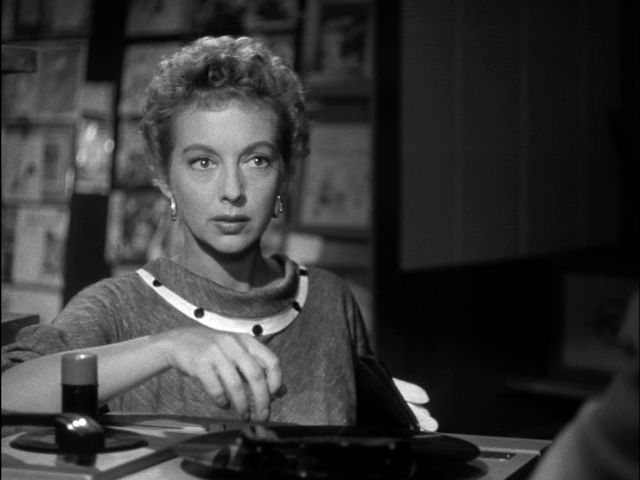 Cut to a record store in LA. Donna Williams (Keyes) is sitting mesmerized listing to "Polynesian Rhapsody" at the end however, she is startled by the final line "you're my golden dream at the rainbows end". She buys the record and runs home, the final line is exactly the same as an inscription her dead sailor husband wrote to her on a framed picture she has on a table. It can't be a coincidence, and she is still holding the torch for Randy who was on the USS Arizona when it was bombed at Pearl Harbor. Could he be alive, She wants to talk to the composer. So she flies to Hawaii to check things out. So beings an interesting convoluted story of murder, shady characters, and the Hawaiian underworld.
The film has a very entertaining cast of supporting players:
Donna (Keyes) and helpful cabby Lida O'Reilly (Elsa Lanchester0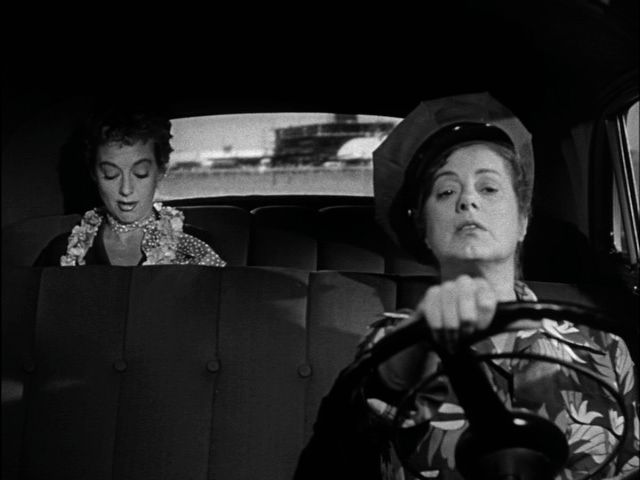 Honolulu Police Chief Dan (Keye Luke)
Police Chief Dan & Ippy the Stoolie (Leonard Strong)
Roger Kong (Phililip Ahn)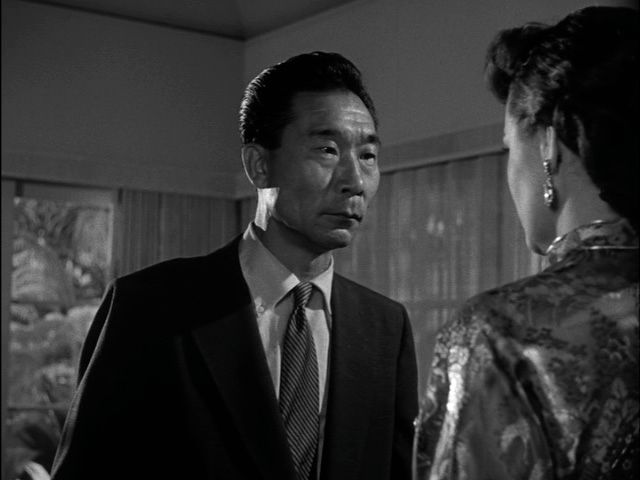 Rose Otis (Marie Windsor)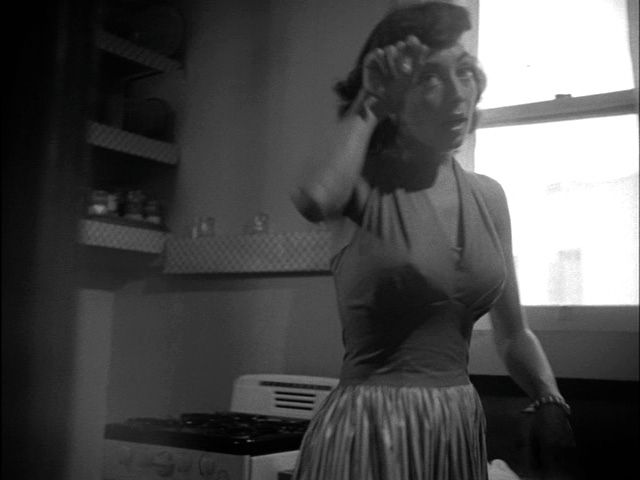 Tubby Otis (Jesse White)
Donna top to bottom as taxi dancer, waking up naked in the Acre, meeting Chet.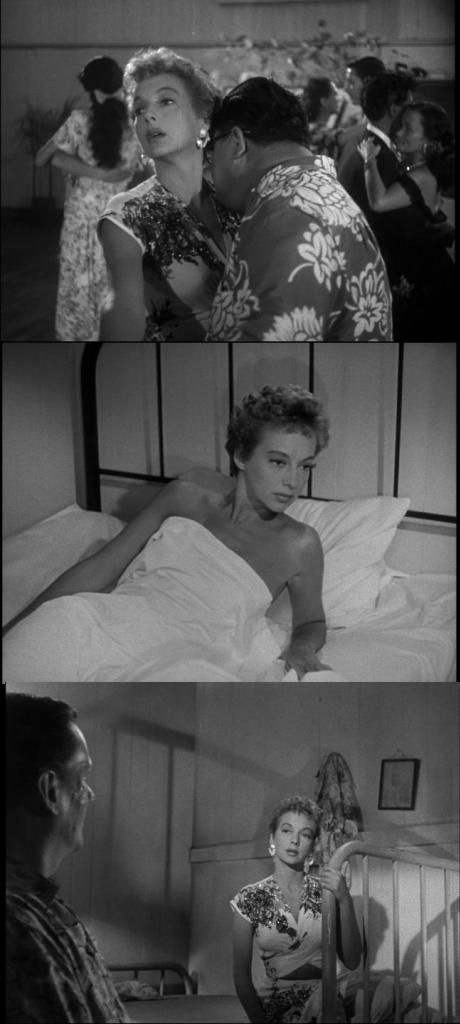 The Otis flop house:
Noir Action in Hell's Half Acre
Corey dressed in hip Hawaiian "cool"
Keyes is very cute in this masquerading as a taxi dancer at one point, waking up naked in a bed at another, Marie Windsor is also great and equally good looking as sort of a Femme Fatale, and Elsa Lanchester is a blousy woman cab driver. Jessi White plays Windsor's alcoholic husband and Ahn is Windsor's Chinese lover.
Don the Beachcomber was the technical adviser for the film the inventor of the Tiki Bar, check out his bio here
http://www.donthebeachcomber.com/history.html
Wasn't expecting much but was pleasantly surprised. Some nice noir-ish sequences, but not a lot of them. Available on DVD from Olive (source of the above screen caps). 8/10